Ready to set up your Maximus Answer DualCam Video Doorbell? Start here!
Step 1 - Download the Kuna App
First, download the free Kuna app from the Apple App Store (for iOS) or the Google Play Store (for Android). You will need to create an account specifically for the Kuna app, even if you have created a separate account for the online store. If you already have a Kuna app account, you can skip to Step 3.
Step 2 - Create an Account
When you open the Kuna app for the first time, you will see the login page. Click the "Get Started" button to create a new Kuna account.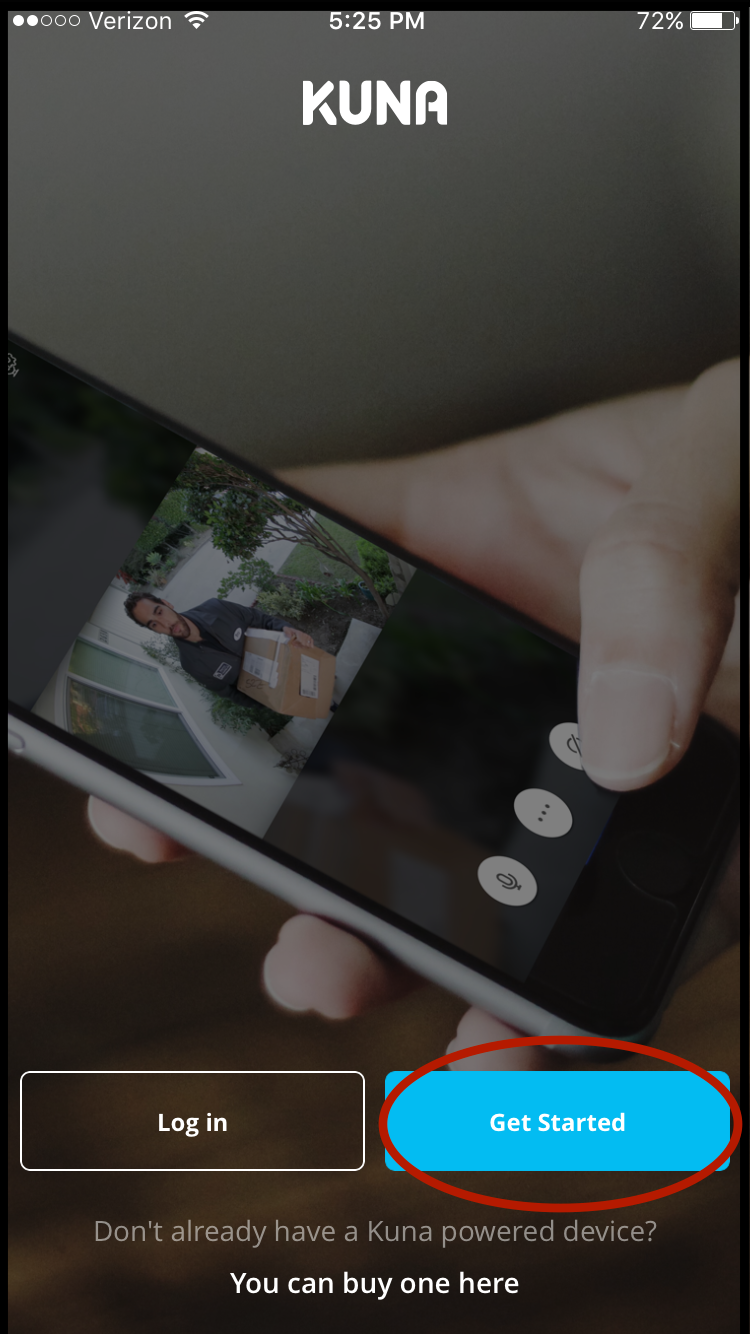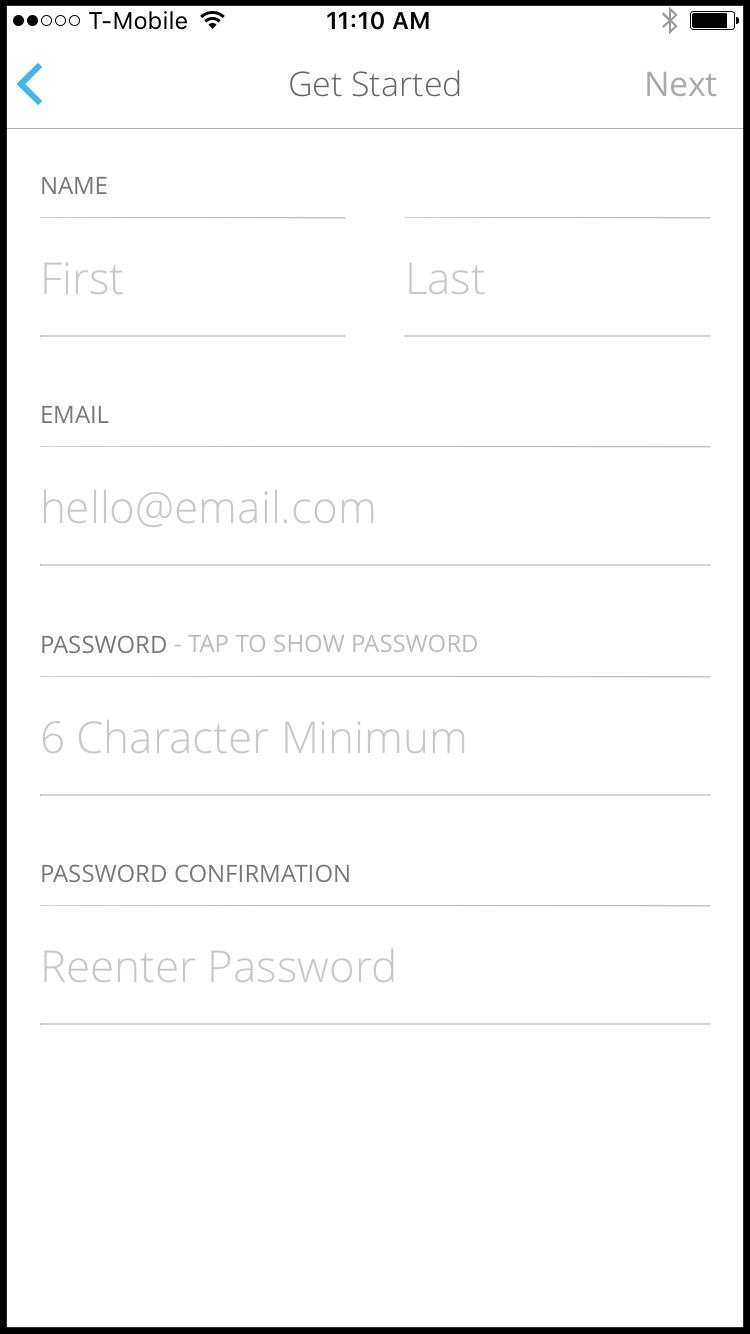 Step 3 - Log In to Your Kuna Account
If you already have an account, you will log into the Kuna app using your Kuna account email and password. First, click the Log In button on the Welcome screen.
Once you click Log In, you'll be prompted to log in using your Kuna account email address and password. If you don't remember your password, click the 'Forgot Your Password?' option to reset your Kuna account password.
After entering your Kuna account email address and password, click NEXT on the top right-hand corner of your screen. You're now signed into your Kuna account!
Step 4 - Complete Chime Bypass and Doorbell Installation
Once you log in to your Kuna App Account, you will see the Devices tab. If you have not yet paired any devices, or if you do not have shared access to any devices, you will see the Welcome screen below. To pair a device from the Welcome screen, click the Add Device button.
If you haven't installed your doorbell and chime bypass yet, the Kuna App will walk you through the installation process. We strongly recommend viewing our chime bypass installation and doorbell installation articles first.
If you have already installed everything and you're ready to go, you can skip this step and jump straight to the Step 5.
Step 5 - Pair Your Doorbell to Your Account
To set up your new Answer DualCam Video Doorbell, please make sure it's successfully installed, and that status LED is flashing red.
Hold your phone close to the device. A flashing light indicates it is ready for setup. Select the correct device. Your doorbell's LED light will be flashing red.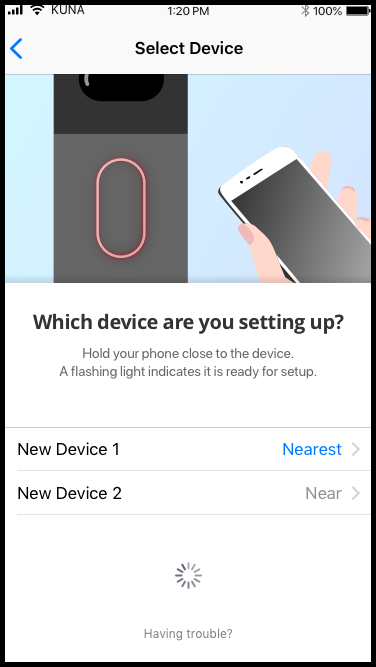 Please Note: If you are setting up multiple Kuna Powered Devices, you will need to go through this set-up process for each new device, starting at Step 4. This allows you to set different locations and Wi-Fi networks for each device, if you wish.
Step 6 - Choose a Name for Your Doorbell
After selecting the doorbell you would like to pair, the mobile app will prompt you to choose a name for it. The mobile app automatically suggests a few of the most popular names, but you can also choose a custom name.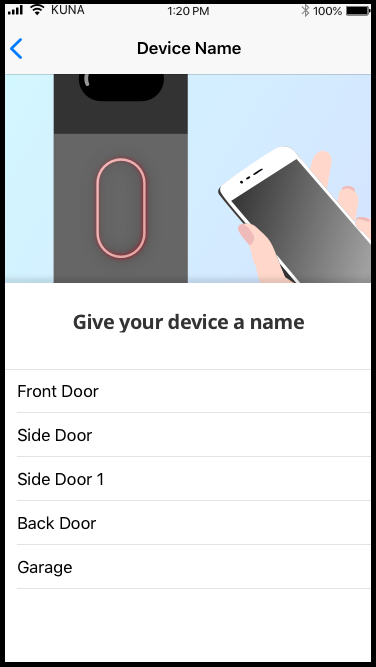 Step 7 - Connect Your Doorbell to Wi-Fi
Now that you have chosen a name for your doorbell, it's time to connect it to your home's Wi-Fi network. The mobile app displays all of the Wi-Fi networks that it is able to find in the area. Make sure that your home's Wi-Fi network displays at least two bars in the mobile app. If your Wi-Fi network shows less than two bars, or is not displayed in this section, move your wireless router closer to your doorbell, or install a Wi-Fi extender.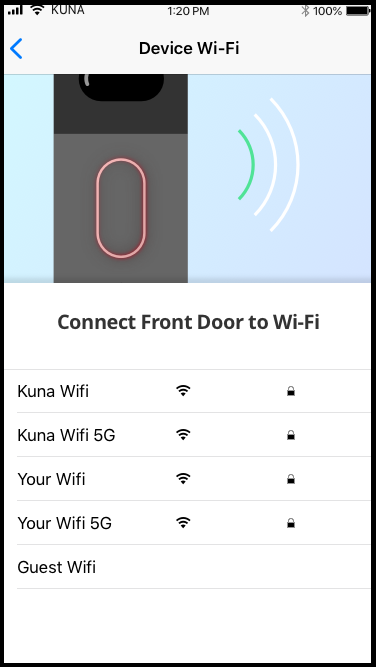 Once you have located your home's Wi-Fi network, tap on the network name to select it and move to the next section. Click into the Wi-Fi password section and enter your home network's Wi-Fi password. We suggest using the Show Password function, to ensure that your password is entered correctly.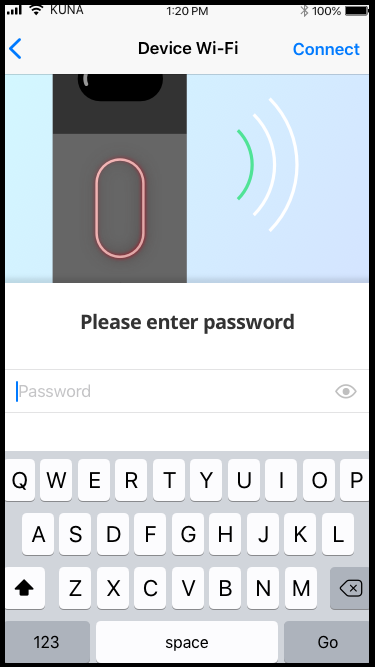 Once your Wi-Fi password is entered correctly, click the Connect button in the top right-hand corner.
Your LED will be flashing yellow as your doorbell tries to connect to Wi-Fi. Once the doorbell is connected to the server, the LED will turn white.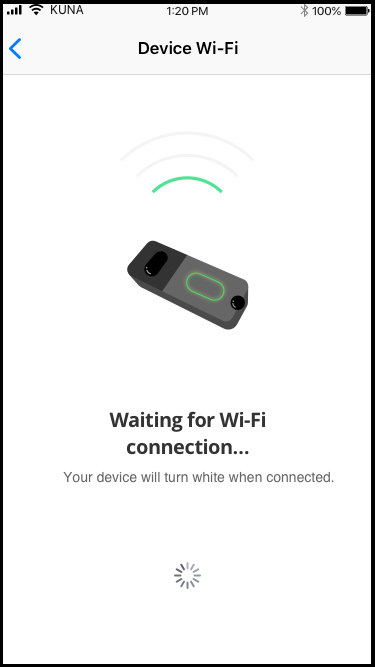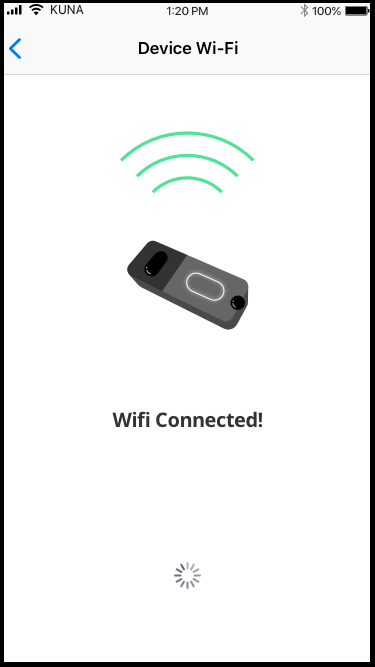 Step 8 - Select Your Location
Your doorbell will use your location to determine sunrise and sunset times for your light schedule. The Kuna App uses your approximate location to make your light schedule more accurate. You DO NOT need to provide your full address.
If you have set up any previous devices, the mobile app will suggest a city for you. Otherwise, you can click "Enter new location" to choose a new or different city for your device.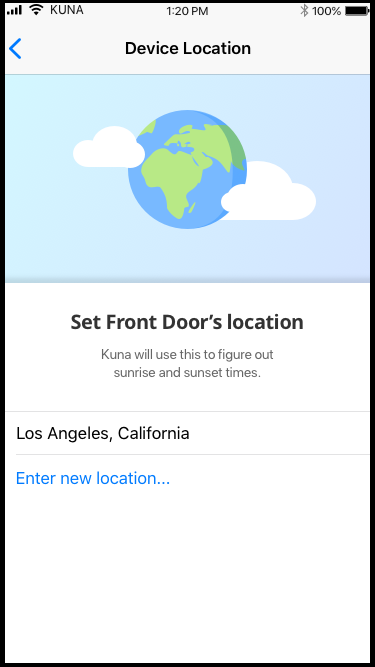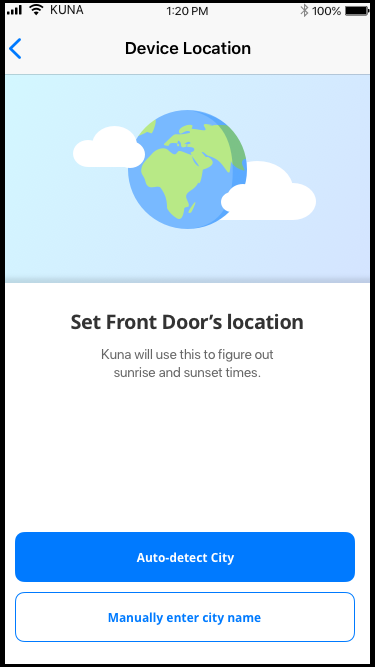 Step 9 - Select a Detection Sound / Chime
Your device can play a pre-recorded message when motion is detected, as a way to greet or alert visitors. To use the default Chime sound, select Next.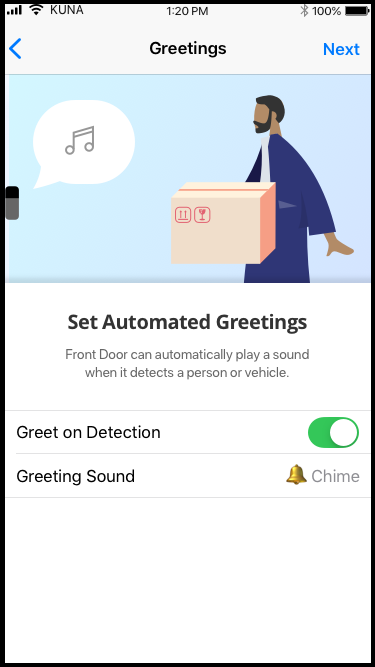 Step 10 - Adjust Your Doorbell Chime
Your chime is automatically set to ring for 0.5 seconds. If your doorbell plays a song or has a longer sound, it may sound different from expected. You can adjust this later in Device Settings.
Press your doorbell's button to test the chime. If your chime sounds incorrect, use the slider to adjust the chime length. Tap Save in the upper righthand corner when you're done.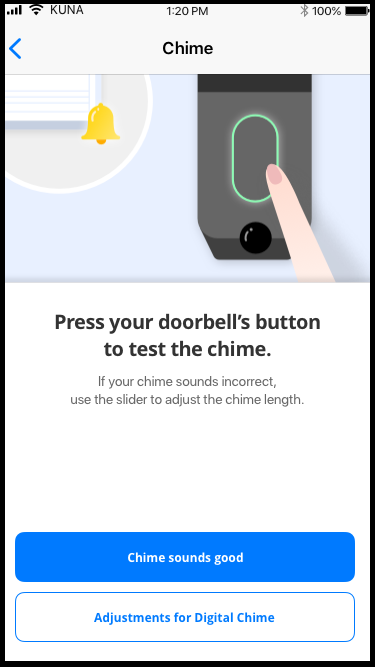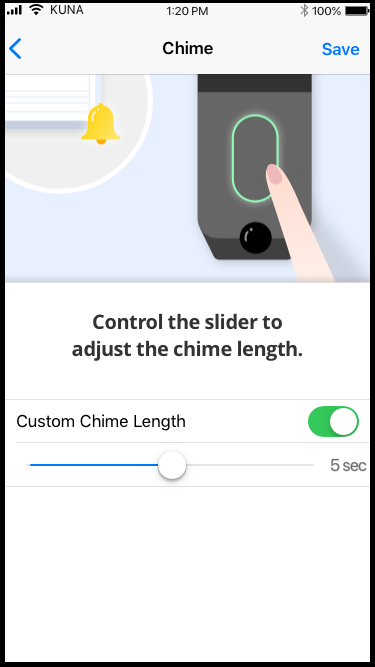 If you need to set up any other devices, simply click the "Set up more devices" button.
Updating the Firmware
Your device may reboot at some point in the next 30 minutes as firmware is updated in the background. Feel free to leave the Kuna App at anytime.
Many of your Kuna App features will not work correctly until your firmware is up to date. You can wait for it to update automatically, or update it manually by tapping the Update Firmware button in your Camera Settings.
Need Help?
If your doorbell or your bypass is not working correctly, please contact support right away!
Below are some additional Help Center articles to get you started with your new device: