You can set when your device turns on and off, with a light schedule, and upon motion detection.
Tap the Settings Gear for the light you want to adjust in the Cameras tab in the app. Then scroll down to the Light section and tap Light Settings.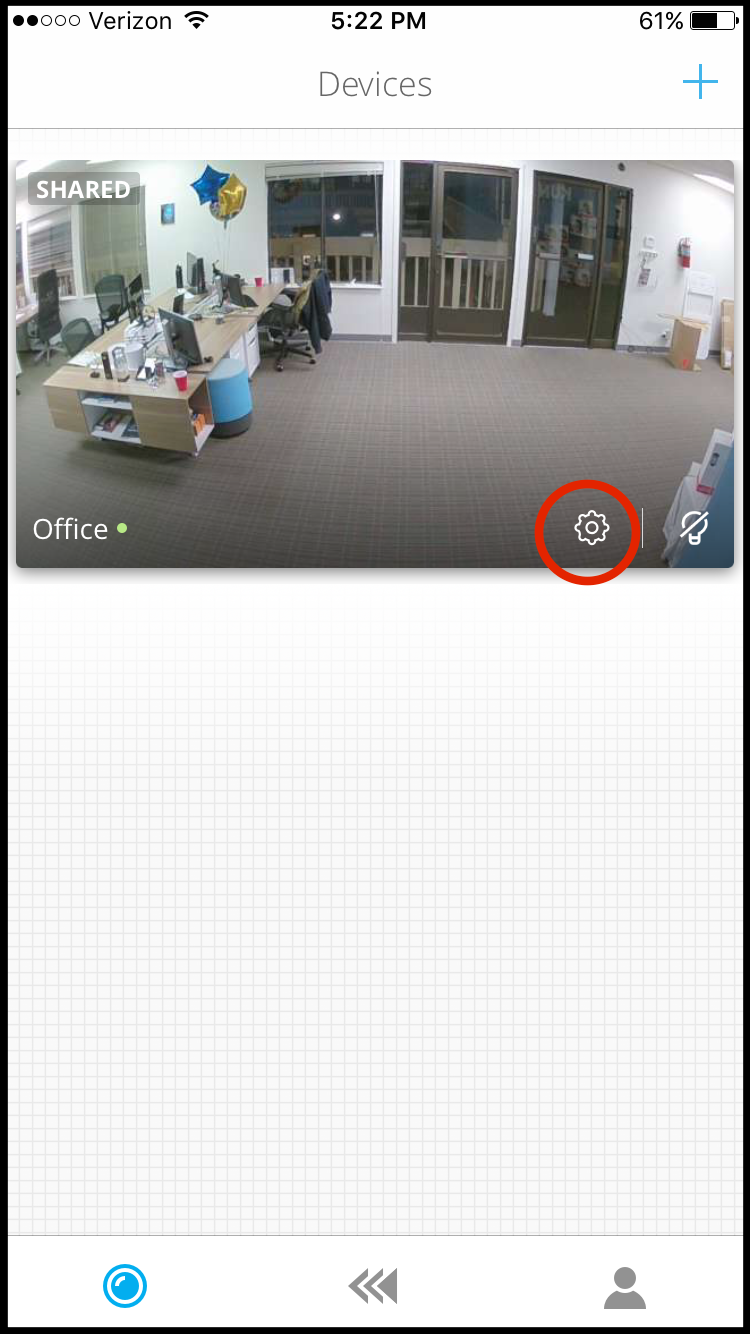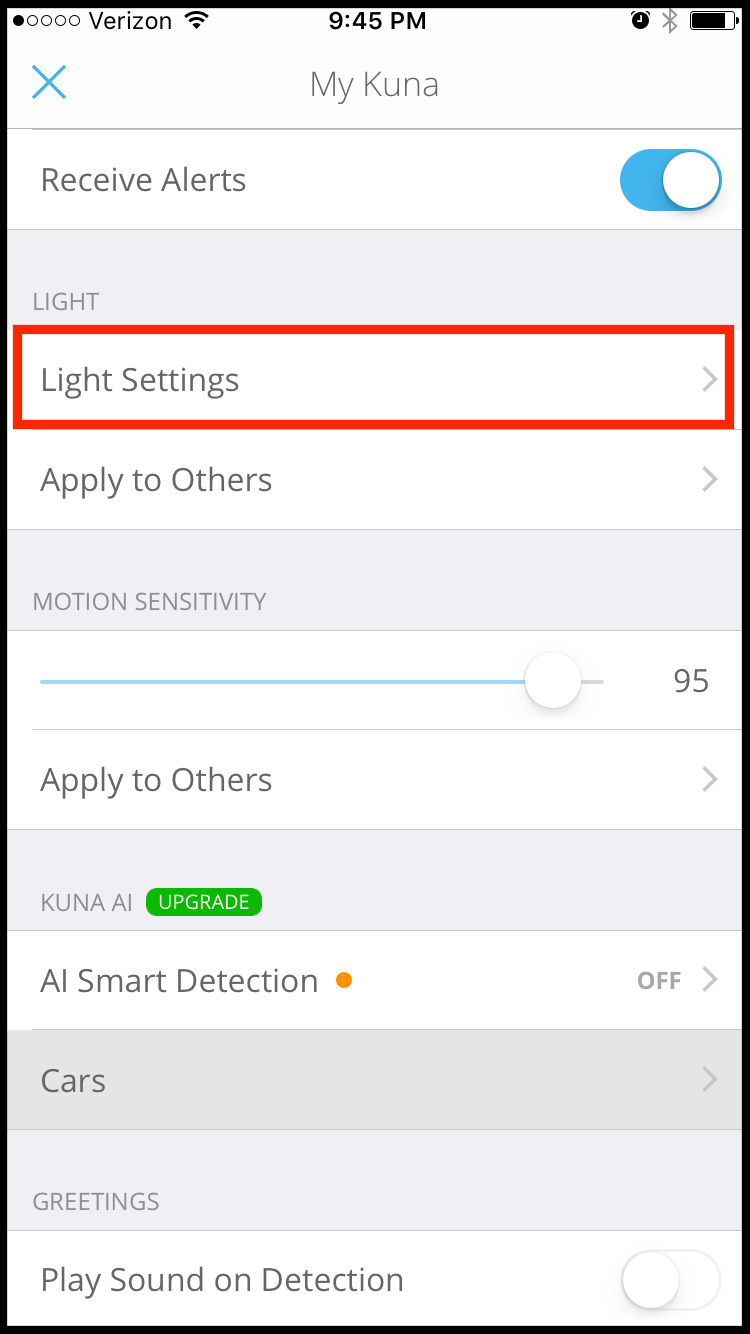 Your device's Light Schedule settings are fully customizable. For example, if you want your light to turn on automatically in the evening, but off at night to save energy, you can choose Dusk for when the light turns on and 10 PM for when the light turns off.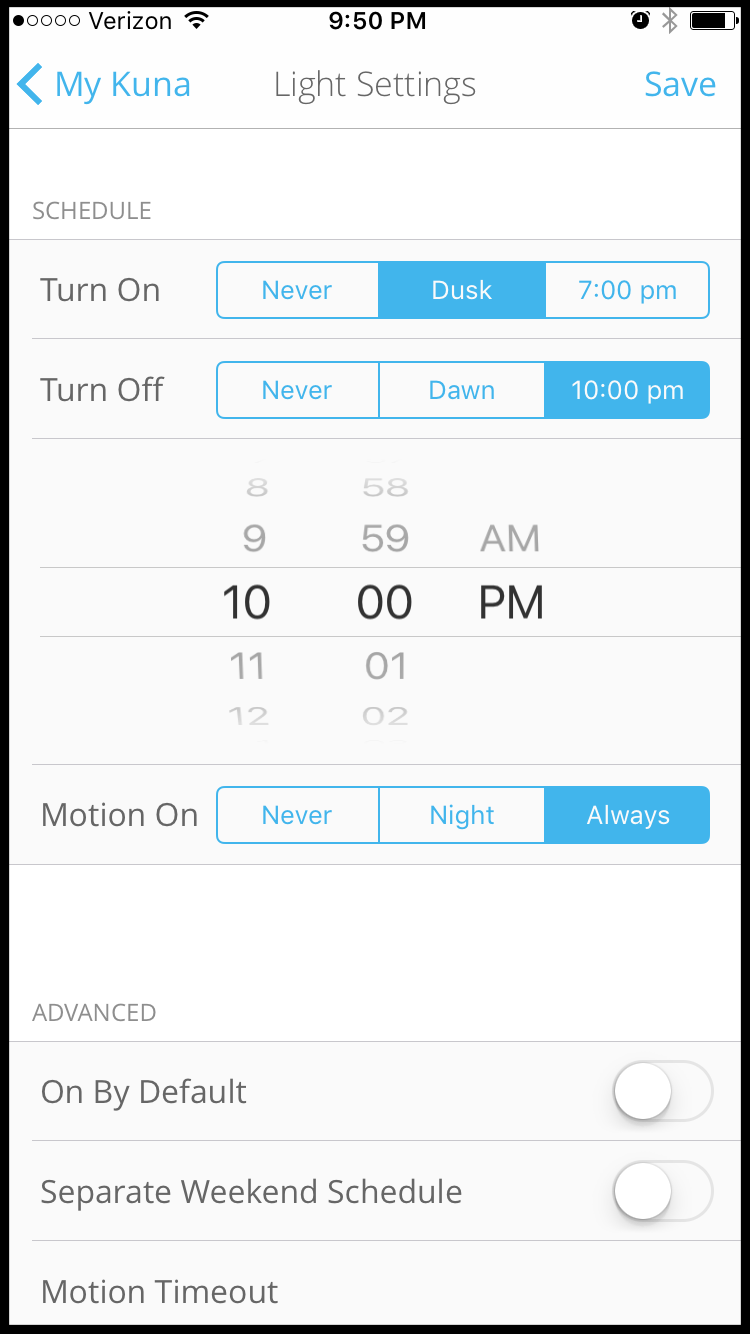 Using the Motion On Feature
Your device uses the light bulb to provide full-color HD video at night. Set Motion On to Night if you aren't planning to leave your light on all night - to enable clear videos.
Set Motion On to Always if you want the light to turn on whenever your device detects motion, day or night.
Set Motion On to Never if you have Dusk-to-Dawn enabled, and don't want the light on to come on automatically at any other time. You can also use this setting if you never want the light turn on when motion is detected (not recommended).
Using the Dusk-to-Dawn Feature
Your device uses your general location to set your Dusk and Dawn times. For information on how to set up or change your location, click here.
If you have either your Dusk or Dawn settings turned on, you can also use the Dusk and Dawn offset timers to fully customize your light schedule.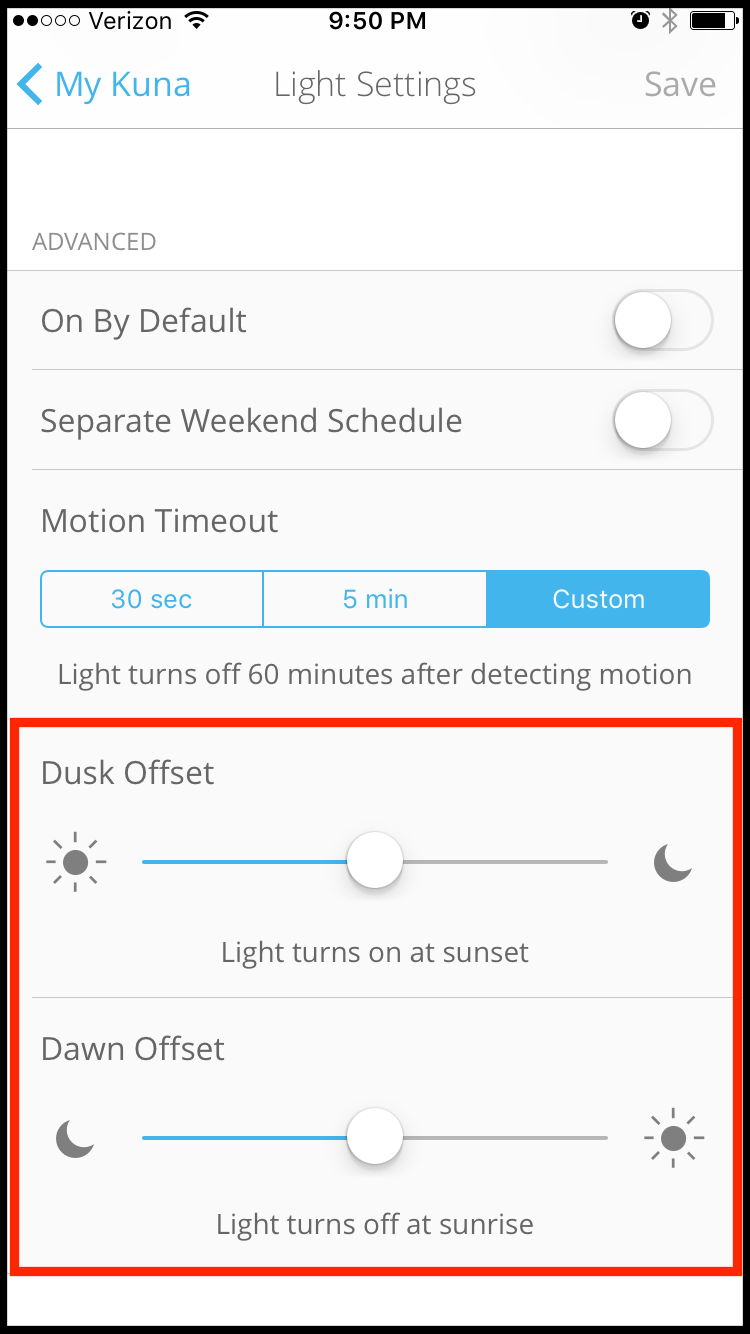 For the Dusk Offset, you can set your light to turn on up to one hour before dusk, one hour after dusk, or anywhere in between! The Dawn Offset allows for the same flexibility, but for the light turning off at dawn.
Your Night setting is determined by your Dusk-to-Dawn settings. For example, if you change your Dusk time to 10 p.m., your Kuna Powered Device will think that Night means 10 p.m. to Dawn. For this reason, we don't recommend turning your Motion On setting to Night if you're using Dusk-to-Dawn.
Using the Motion Timeout Feature
If you have your Motion On set for either Night or Always, you can also customize your Motion Timeout – the length of time that your device's light bulb stays on after it has picked up motion.
There are two quick setting options, for 30 seconds and 5 minutes, but you can also set a custom time for up to 60 minutes.
If you have trouble finding the Motion Timeout or Dusk/Dawn offset times, please make sure that you have the latest version of the Kuna mobile app installed.
Turning Your Light On or Off Manually
The light on/off button is located in your camera's live feed. When you turn the light on or off, it will override any light schedule settings you have set. This override will remain in place until your light schedule settings match the current state of your light bulb (on or off).
Using Kuna with Smart Bulbs
You can now set your light to stay on by default! In the Advanced Settings section, make sure the On By Default tab is toggled on. This setting is off by default: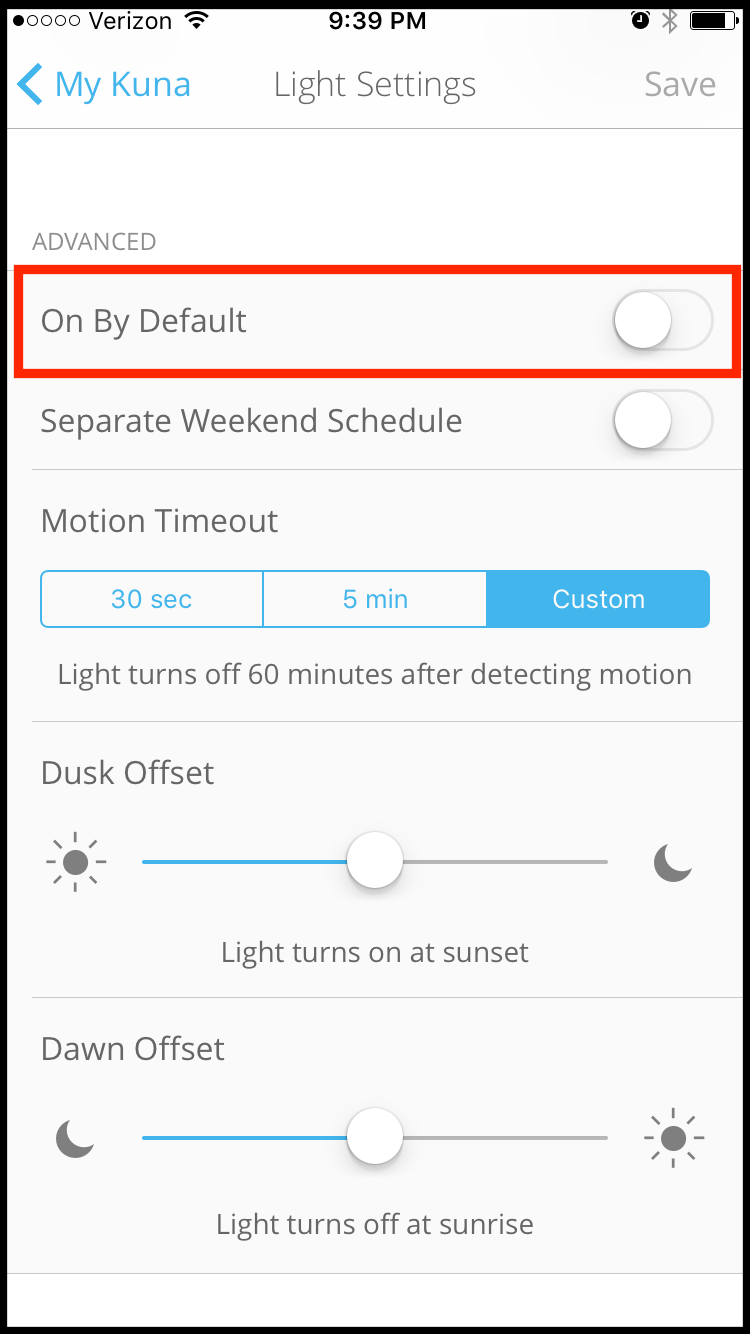 "On By Default" is intended for people who don't want to use Kuna's light schedule settings and prefer to control their light with a smart light bulb (such as the Phillips Hue).