First, make sure that you have set up your Toucan device, that your Toucan is powered on, and that your Smart Socket has a working light bulb. If you need help setting up your Toucan, click here! Next, we'll pair the Smart Socket with that Toucan device.
If you already have an account, you will log into the Kuna app using your Kuna account email and password. First, click the Log In button on the Welcome screen.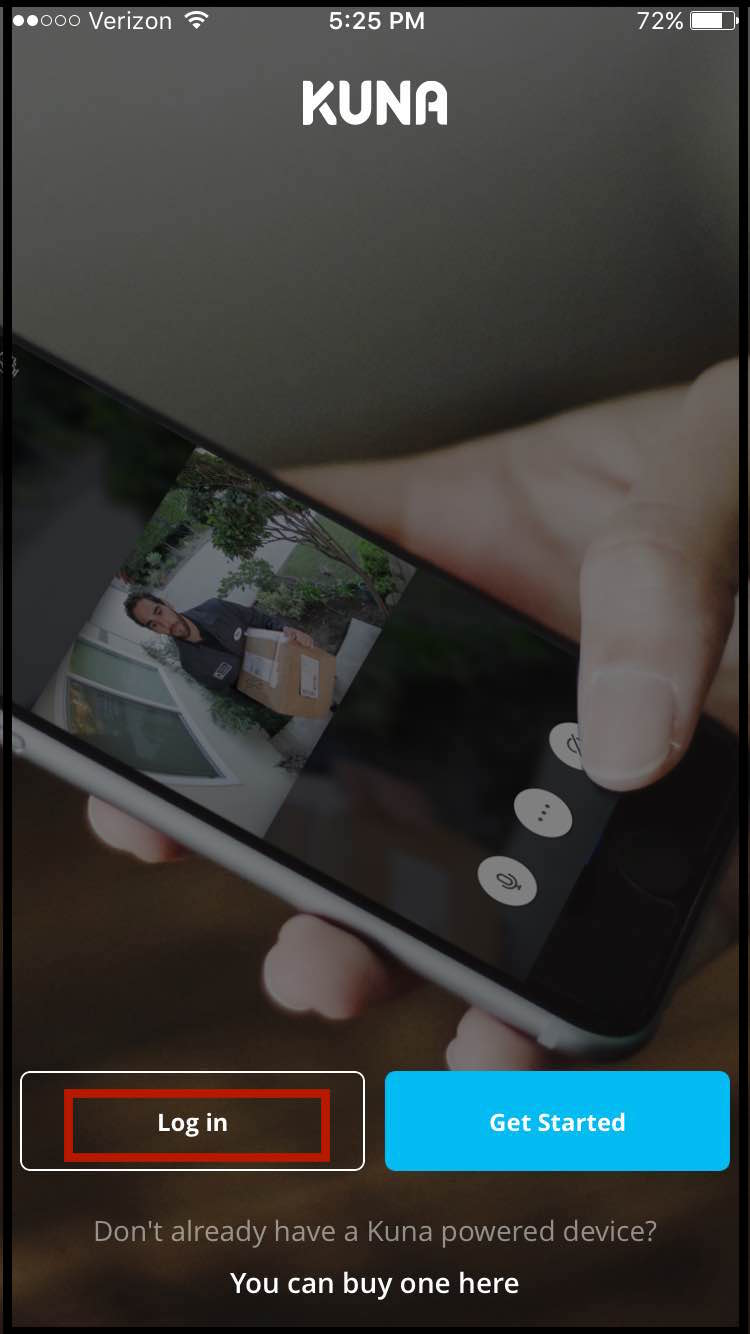 Once you click Log In, you'll be prompted to log in using your Kuna account email address and password. If you don't remember your password, click the Forgot Your Password? option to reset your Kuna account password.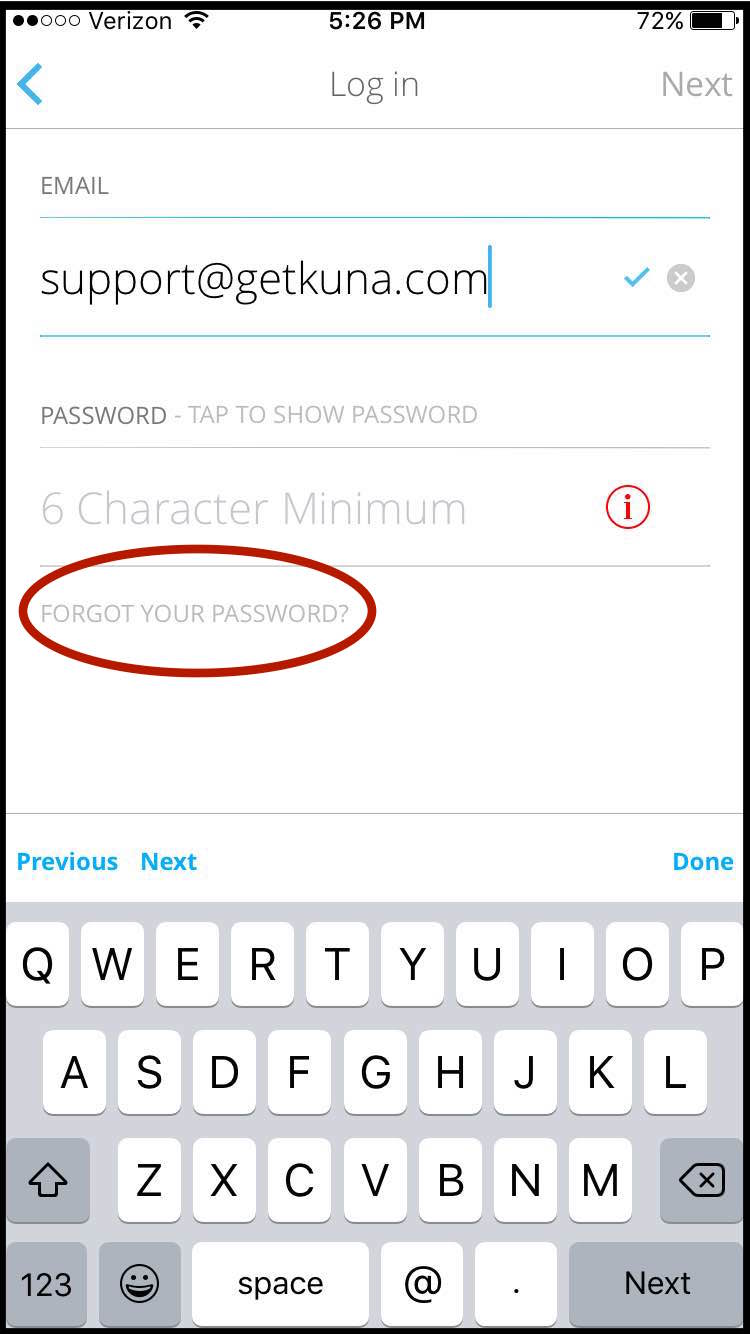 After entering your Kuna account email address and password, click NEXT on the top right-hand corner of your screen. You're now signed into your Kuna account!
Pair Your Smart Socket to Your Toucan Camera
Once you log in to your Kuna account, you will see the Devices tab. If you have not yet paired any devices or if you do not have shared access to any devices, you will see the Welcome screen below. To pair a device from the Welcome screen, click the Add Device button.
If you already have shared access or a paired device, you will see a thumbnail of all the devices you currently have access to – like the screen shot below. In this case, you'll click the Device Plus button on the top, right-hand side of the screen.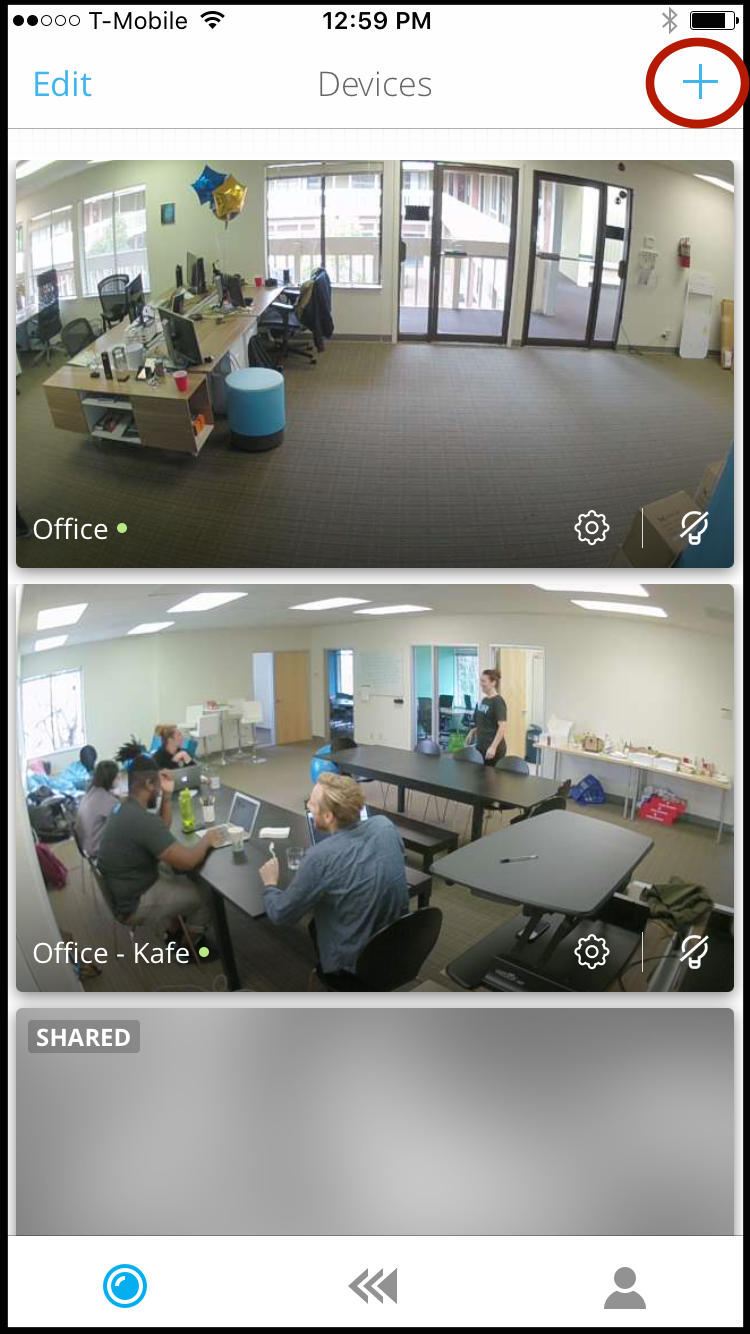 Once you have clicked either the Device Plus button or the Add Device button, you will be prompted to choose the type of device you would like to pair with your account. In this walkthrough, we'll be pairing a Toucan Smart Socket, so choose that option by tapping on the picture of the Smart Socket.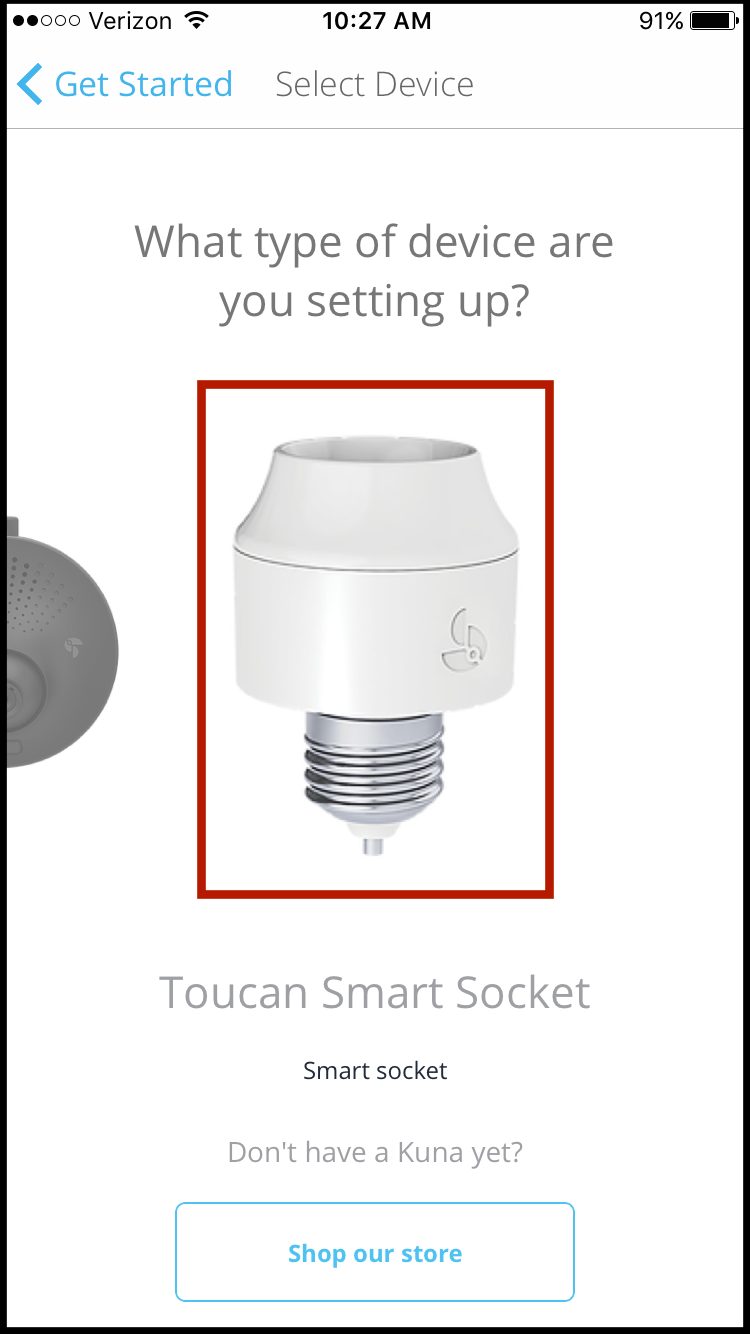 To find out more about pairing a Kuna Companion, click here. To set up a Toucan camera, click here.
From the Cameras tab of the mobile app, click the Camera Plus button in the upper right hand corner of the screen.
Clicking that Camera Plus button will prompt you to choose between setting up a Kuna Light, Kuna Companion, Toucan, or Toucan Smart Socket. Select the Smart Socket option.
The Smart Socket pairing process uses Bluetooth, so your mobile device will need to be close to both your Toucan and your Smart Socket. We recommend holding your mobile device no more than 5 feet away during this setup process.
Next, you'll need to choose which Toucan to pair your Smart Socket to. Choose your Toucan's name from the list of available devices.
Now that your mobile app knows which Toucan the Smart Socket will pair to, you'll need to search for available Smart Sockets.
Clicking the "Tap to Search for Smart Sockets" button will have your Toucan device check for available Smart Sockets in the vicinity.
Once your Toucan locates the closest Smart Socket, it will send a command for the light bulb of that Smart Socket to start flashing. Make sure that you have a working light bulb in that Smart Socket for this pairing process.
Once you have verified that the light bulb in your Smart Socket is flashing, you will click the "Yes" button. This will pair the flashing Smart Socket to your Toucan. If the light bulb in your Smart Socket is not flashing, please click the "No" button and follow the steps to re-pair it.
After that socket is paired, you can click the "Add Toucan Smart Sockets" link at the top of the screen to pair additional Smart Sockets. Or, you can click the Done button in the top right hand corner, and you're all set!
If you run into any issues during the pairing process, or if your Smart Socket's light bulb does not flash, contact us at support@getkuna.com!
If you have an earlier version of the Kuna mobile app, click here to view the appropriate article.